"The yacht is first of all a game both for us and for our customers" (Signor Michelli, Riva designer).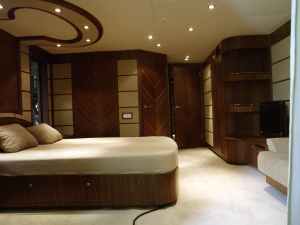 Yacht interior design engineering, refurbishing and retrofitting are one of KVAND's business directions. Drawing on the extensive experience in aircraft interior refurbishment, the company offers to its customers the latest in modern yacht production technologies.
The company's expertise in ship-building has been acknowledged by the Russian River Register.
KVAND's motor yacht building offer includes the complete range of operations, from yacht style design, interior design and specifications all the way to interior assembly, testing and commissioning. Every project is carried out by a team of versatile specialists.
KVAND's production capacities enable the company to perform the full working cycle of interior refurbishment for river and sea vessels up to 150 meters long in strict compliance with all international standards.
In addition to design work, the company performs interior mounting, cabling, mounting of electric equipment, installation of AV systems, as well as production of yacht furniture. KVAND's engineers are continuously perfecting yacht building techniques.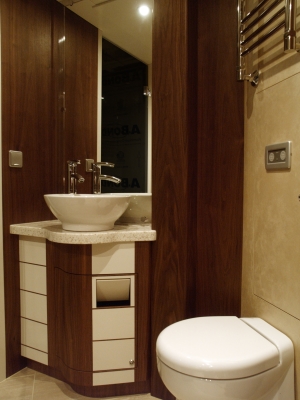 The motor yachts designed by KVAND are built at the best Russian ship-building facilities.
The design and building unfold sequentially – design, hull, ship architecture, interior, engines, and navigation systems. Engineers and designers improve their ideas over the whole course of the project.
During project implementation KVAND's specialists take into consideration both theoretical vessel dimensions and regular control ranging data. The techniques of siting and ranging regularly conducted by project personnel ensure maximum precision and reduce interior assembly terms.